Newsletter magazine
EnginSoft's SBE&S Magazine is a quarterly publication dedicated to bring you the latest news and developments in the numerical simulation world.
The magazine publishes articles and case studies from all industrial sectors. Particular attention is paid to the issues of reducing product development lead time, increasing the return on investment by using the latest and greatest CAE tools, and to original, "out-of-the-box" approaches to the problems of design and product development.
Other relevant topics discussed in the Magazine include: information technology (including high performance computing), research and technology transfer, thought leadership, as well as tailored advice for researchers, CAE analysts and managers.
CURRENT ISSUE: Year 15 n. 1  Spring 2018 
The Engineering simulation in Lovato Electric, leader in low voltage electrical devices
Improving the NVH performance of a motorbike powertrain
Optimized production process of a supporting plate
Effect of Ceramic Materials on Structural Analysis of Ball Bearings
Performance of road side crash barrier

with regards to vehicle crashworthiness

FMI-enabled digital twin

for co-design of production machines

...and many other topics on CAE Technologies applications.
Special Issue
EnginSoft Newsletter
Special Issue on modeFRONTIER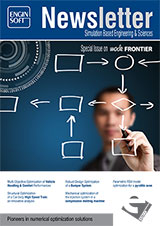 Oil&Gas Newsletter
Special Issue