Newsletter magazine
EnginSoft's SBE&S Magazine is a quarterly publication dedicated to bring you the latest news and developments in the numerical simulation world.
The magazine publishes articles and case studies from all industrial sectors. Particular attention is paid to the issues of reducing product development lead time, increasing the return on investment by using the latest and greatest CAE tools, and to original, "out-of-the-box" approaches to the problems of design and product development.
Other relevant topics discussed in the Magazine include: information technology (including high performance computing), research and technology transfer, thought leadership, as well as tailored advice for researchers, CAE analysts and managers.
CURRENT ISSUE: Year 14 n. 4 Winter  2017
Brembana&Rolle - CFD analysis of an Industrial Burner for a regeneration gas heater application: the design of a burner and the related heat transfer equipment must fulfill severe safety requirements, in order to avoid issues during the operation stage...


ELETTRONICA - Ultra-Wide Band Radome CAE Optimization: the radome design is very challenging from both an electromagnetic (EM) and a mechanical point of view because of its size and bandwidth....


Filming the Bloodhound Super Sonic Car Land Speed Record: the topic of a final year Mechanical Engineering project was to design a system to film the Bloodhound land speed record attempt....


Evaluation of dam performance under seismic loads with DCR time history procedure: case study of GERD main dam design

...and many other topics on CAE Technologies applications.
Special Issue
EnginSoft Newsletter
Special Issue on modeFRONTIER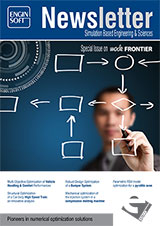 Oil&Gas Newsletter
Special Issue