Newsletter magazine
EnginSoft's SBE&S Magazine is a quarterly publication dedicated to bring you the latest news and developments in the numerical simulation world.
The magazine publishes articles and case studies from all industrial sectors. Particular attention is paid to the issues of reducing product development lead time, increasing the return on investment by using the latest and greatest CAE tools, and to original, "out-of-the-box" approaches to the problems of design and product development.
Other relevant topics discussed in the Magazine include: information technology (including high performance computing), research and technology transfer, thought leadership, as well as tailored advice for researchers, CAE analysts and managers.
CURRENT ISSUE: Year 14 n. 2 Summer 2017
Vin Service and EnginSoft: a six-year history of innovation
Vin Service was founded in 1976 from oenologist Riccardo Guadalupi and Daniela Gennaro Guadalupi, based on the revolutionary idea of supplying quality wine, in large quantities and fast… on tap.

Improving the development of farming equipment using CAE technologies
The deep integration of ANSYS and Spaceclaim in the design process of Maschio Gaspardo SpA allows the company to evaluate in advance the performances of its products, improving them to ensure quality. 

Reliable hydraulic direct drivesfor improved performance
Torque and losses prediction, calculation of oil residence time and understanding the flow path are key factors during the development phases of a hydraulic motor. 

Energy and Automation
ANSYS Maxwell allows Lovato to reduce the number of prototypes which are necessary to guarantee the correct fulfilment of the regulation and to validate the project functionality at the same time.  

...and many other topics on CAE Technologies applications.
Special Issue
EnginSoft Newsletter
Special Issue on modeFRONTIER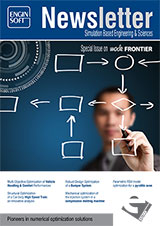 Oil&Gas Newsletter
Special Issue