Newsletter magazine
EnginSoft's SBE&S Magazine is a quarterly publication dedicated to bring you the latest news and developments in the numerical simulation world.
The magazine publishes articles and case studies from all industrial sectors. Particular attention is paid to the issues of reducing product development lead time, increasing the return on investment by using the latest and greatest CAE tools, and to original, "out-of-the-box" approaches to the problems of design and product development.
Other relevant topics discussed in the Magazine include: information technology (including high performance computing), research and technology transfer, thought leadership, as well as tailored advice for researchers, CAE analysts and managers.
CURRENT ISSUE: Year 13 n. 4 Winter 2016
Detecting and mitigating critical flow structures in water pumping stations in GE Power Generation
Fluid Dynamics Optimization of Racing Engine Inlet Ducts at Aprilia Racing
Investigation of vacuum cleaner performance by Whirlpool through vacuum head modifications
Multibody Simulation of Forklift trucks dynamic loads in Toyota Material Handling
Piaggio: numerical simulations for the structural performance assessments: a connecting rod's case study
High Temperature Forging of Austenitic Stainless Steels: Failure Analysis using Numerical Simulations


...and many other topics on CAE Technologies applications.



Special Issue
EnginSoft Newsletter
Special Issue on modeFRONTIER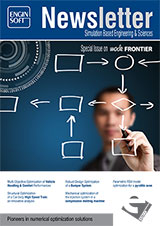 Oil&Gas Newsletter
Special Issue