Newsletter magazine
EnginSoft's SBE&S Magazine is a quarterly publication dedicated to bring you the latest news and developments in the numerical simulation world.
The magazine publishes articles and case studies from all industrial sectors. Particular attention is paid to the issues of reducing product development lead time, increasing the return on investment by using the latest and greatest CAE tools, and to original, "out-of-the-box" approaches to the problems of design and product development.
Other relevant topics discussed in the Magazine include: information technology (including high performance computing), research and technology transfer, thought leadership, as well as tailored advice for researchers, CAE analysts and managers.
CURRENT ISSUE: Year 14 n. 1 Spring 2017
CFD & FEM multi-physics simulation in electrical motor and generator design
Improving efficiency while reducing cost is a very complex engineering challenge: Marelli Motori hits the target through extensive use of CFD & FEM multi-physics simulation in electrical motor and generator design

Cimolai Technology designs and produces special machines and plants for lifting, handling, transport and launching operations
ANSYS Technology allows to simplify and improve the iterative flow between design/project and computation/verification.

Optimization of an automotive manufacturing system design taking into account regional requirements 
COMAU is continuously improving its manufacturing systems design processes in order to reduce the system design lead times and shorten the time to market.

How to optimize an external gear pump in highly constrained conditions
Today, any kind of hydraulic subsystem has to guarantee highperformances and reliability in order to meet customer expectation while minimizing the price and time-to-market of each product.

 

...and many other topics on CAE Technologies applications.
Special Issue
EnginSoft Newsletter
Special Issue on modeFRONTIER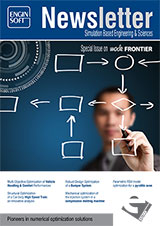 Oil&Gas Newsletter
Special Issue